Partnership Agreement, Strategic Vision, and Priority Objectives
SCDRS Report Card, Viability Analysis & Science and Monitoring Database
Relevant Literature and Projects
SCDRS Areas of Concern Program Information
SCRDS-related Great Lakes Areas of Concern
Video
Return of the Gentle Giants: St. Clair – Detroit River System Fish Habitat Restoration. This video is focusing on the successful St. Clair River fish habitat restoration project and the science and collaboration that made it a success! Video on YouTube.
Corridor Map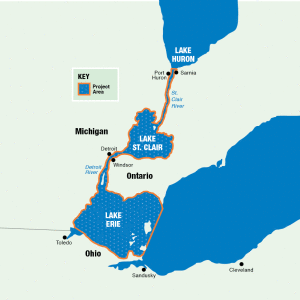 Remediating Native Fish Spawning Habitat in the St. Clair – Detroit River System
March 2014. The United States Geological Survey and partners prepared a full report describing upcoming fish spawning reef projects and potential environmental impacts.
Report including signature page and appendices
Use of the Partnership Logo
The Partnership Logo can be downloaded here for use on SCDRS related material. For high-profile media events, including press releases, please contact the Communications Subcommittee Chair to coordinate with agency press releases.